UET Receives Hero Impact Award from Leukemia and Lymphoma Society for Second Year
October 2, 2023
Community brief: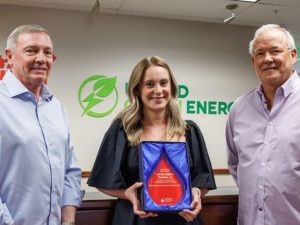 Tom Smith and Tom Williams of United Energy Trading accept the Hero Impact Award from the Leukemia and Lymphoma Society.
This summer, the Leukemia and Lymphoma Society of America (LLS) recognized United Energy Trading with their Hero Impact Award. This award is for any company that raises over $100,000 for LLS. This is the second time in two years that UET has won this award.
Since 2017, we've raised nearly $362,000 from our generous friends, families and customers to impact those with blood cancers and blood cancer research.
One of the benefits of the Hero Award is that UET can designate where our funds impact. This year, we've chosen pediatric and young adult blood cancer research. This fund goes to not just research, but the support young adults and children need in the form of financial assistance and materials.
Unfortunately, UET is no stranger to blood cancers. Multiple employees have been impacted by a diagnosis of a loved one or themselves. That's what drives our commitment to the cause, and why supporting LLS is so important to our organization.
Social media post:
We were honored by the Leukemia and Lymphoma Society this summer with the Hero Impact Award. It's the second time we've been recognized with this award for our fundraising for LLS. Unfortunately, UET has been deeply impacted by blood cancer, and it brings us strength and comfort to contribute to such a transformative organization.